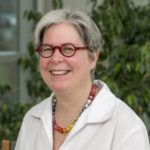 Michelle Francl
Michelle Francl is a computational chemist. She is Chair & Frank B. Mallory Professor of Chemistry at Bryn Mawr College. An Adjunct Scholar at the Vatican Observatory, she is co-presenter of 'Seeking the Face of God: The Lives and Discoveries of Catholic Scientists'.
Interviews with Michelle Francl
Chemistry plays a vital role in our understanding of life, the universe and the chances of a better future, says Michelle Francl. She chooses five of the best books on the topic—from a biography of water to a portrait of one of the greatest chemists of all time.