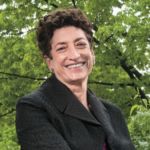 Naomi Oreskes
Naomi Oreskes is Professor of the History of Science and Affiliated Professor of Earth and Planetary Sciences at Harvard University
Books by Naomi Oreskes
"Oreskes adds a novel twist—novel to the philosophy of science in the 20th century, that is—which is that it is the social character of science that provides a warrant for its trustworthiness. The fact that science is a collective activity that depends on open debate and criticism, and relies on tools like peer review and conferences and workshops where differences of opinion are aired, means that it gives us not exactly truth, but our greatest likelihood of truth." Read more...
The Best Climate Books of 2019
Sarah Dry, Science Writer
Interviews with Naomi Oreskes
'We're on a path that is going to lead to tremendous destruction and yet most of us are going about our lives as if nothing particularly special is happening.' The science of climate change is incontrovertible but deniers persist and political and economic solutions continue to be – systematically – frustrated. Time is running out, says Naomi Oreskes
Interviews where books by Naomi Oreskes were recommended
In an age when we all need to work together to slow down climate change, which books are the most effective in spurring us to action? Historian of science Sarah Dry, author of Waters of the World, recommends some of the best and most important climate books of 2019.