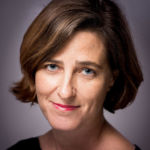 Sarah Dry
Sarah Dry is a writer and historian of science. Her most recent book, Waters of the World: The Story of the Scientists Who Unravelled the Mysteries of Our Seas, Glaciers and Atmosphere and Made the Planet Whole, is a history of Earth's climate in six remarkable lives. It was selected on Five Books as one of the five best science books of 2019. She has also written a biography of Marie Curie and The Newton Papers: The Strange and True Odyssey of Isaac Newton's Manuscripts. She is a trustee of the Oxford Trust.
Books by Sarah Dry
"It's inspired. Sarah Dry is a science historian specialising in climate. And it is history, she shows, that helps to ground our understanding of the nature and findings of baggy multidisciplinary fields like climate science. So at a time when millions of people worldwide are demonstrating over the climate crisis — basically fighting for a future — Dry looks to the past: to the very roots of the science of planetary change, told through the stories of six dedicated researchers." Read more...
The Best Science Books of 2019
Barbara Kiser, Science Writer
Interviews with Sarah Dry
From the power of the individual to effect change to the large-scale government interventions needed, are we close to a tipping point in our efforts to combat climate change? Just in time to get up to speed for COP26, here's a selection of the best climate books of 2021, selected for us by historian of climate science, Sarah Dry.
In an age when we all need to work together to slow down climate change, which books are the most effective in spurring us to action? Historian of science Sarah Dry, author of Waters of the World, recommends some of the best and most important climate books of 2019.
Interviews where books by Sarah Dry were recommended
It's been another fabulous year for science books that make important scientific developments accessible to a general audience. Barbara Kiser, Books & Arts Editor at Nature, talks us through her favourite science books of 2019.