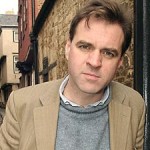 Niall Ferguson
Niall Ferguson is a British historian, and the Laurence A Tisch Professor of History at Harvard University. His speciality is financial and economic history, as well as the history of colonialism, but he has written across a wide range of topics, as well as presenting several TV documentary series. In 2004, Ferguson was named as one of the 100 most influential people in the world by Time magazine. His most recent book is Kissinger: 1923-1968: The Idealist.
Interviews with Niall Ferguson
Harvard historian Niall Ferguson tells us about the diverse influences on his work, from Keynes and Tolstoy to an Austrian satirist. He explains how he prefers a philosophy of history that emphasises the contingent and the chaotic, rather than the neatly predictable.
Interviews where books by Niall Ferguson were recommended
The author and economist argues that the West is in decline, the U.S. faces structural unemployment, and authoritarian states like China are in many ways better positioned to deal with financial busts