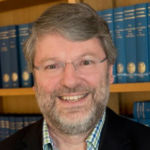 Nicholas Cronk
Nicholas Cronk is Professor of French Literature and Director of the Voltaire Foundation at the University of Oxford.  He is general editor of the Complete Works of Voltaire, the first ever scholarly publication of the totality of Voltaire's writings, in some 200 volumes. The project was awarded the Hervé Deluen Prize from the Académie française in 2010. He was edited works by Voltaire, Diderot, and Rostand for the Oxford World Classics series.
Interviews with Nicholas Cronk
The eighteenth-century philosopher wielded his powers of ridicule and witticism against religious fanatics—but always championed free speech and religious toleration. He was also a historian, scientist, poet, playwright, and political activist. Nicholas Cronk, General Editor of the Complete Works of Voltaire gives a detailed look at the polymathic philosophe.