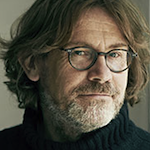 Nigel Slater
Nigel Slater is a cook who writes. He has been food columnist for The Observer for 20 years and is presenter of BBC1's Dish of the Day. His books include the classics Appetite and The Kitchen Diaries and the critically acclaimed two-volume Tender.
Books by Nigel Slater
There is something offbeat and quirky and brilliant about Nigel Slater and he is also a very good writer.
I love the simplicity of it and the cosiness of it. You can imagine being at home on a blowy November evening and creating a meal from whatever you happen to have lying around in the fridge.
Interviews with Nigel Slater
Which is the one cookbook the cookery writer can't do without? Who writes the best recipes? Who is the best writer? Who does he turn to for a breath of fresh air? Nigel Slater picks his all-time favourite cookbooks.
Interviews where books by Nigel Slater were recommended
The author and food writer talks about honey pancakes, mushy peas, drop scones, choux pastry, baked onions and Winnie the Pooh. Perfect lunch-break reading (as long as you're having a good lunch)
The London Times award-winning food columnist takes an irreverent look at the world of food writing, from restaurant critics to celebrity chefs