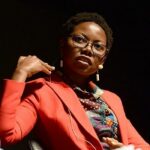 NoViolet Bulawayo
NoViolet Bulawayo is the pen name of Elizabeth Zandile Tshele, a Zimbabwe-born author who has been twice shortlisted for the Booker Prize—first, in 2013, with her novel We Need New Names, and more recently in 2022 with Glory, an Animal Farm-like allegory for Mugabe's Zimbabwe. ("This book drained me," as she told The Guardian. "I think it's one of the hardest things I've ever done.") Previously Bulawayo won the 2011 Caine Prize for her story 'Hitting Budapest', about a starving gang of children in a shanty town.
Books by NoViolet Bulawayo
Shortlisted for the 2013 Booker Prize
"The way Bulawayo uses set forms of words, or repetition, a sense of incantation that takes you into a different rhythm of thinking and living, which matches, of course, the otherness of presenting the history of Zimbabwe through fabular animals. Using animals to tell what is, in many ways, a fairly straightforward political history of Zimbabwe over the last 40 years, allows a very high degree of emotional engagement by the reader; we inhabit the space emotionally, as well as historically. And the animals do something very remarkable, I think, because they remove the question of race. The story becomes simply about how living beings treat each other. And that we found very powerful." Read more...
The Best Fiction of 2022: The Booker Prize Shortlist
Neil MacGregor, Art Historians, Critics & Curator
Interviews where books by NoViolet Bulawayo were recommended
The Booker Prize is awarded each year to the best original novel written in the English language. We asked the art historian Neil MacGregor, chair of this year's judging panel, to talk us through the six novels that made the 2022 shortlist—and why fiction can be a most effective means of engaging us emotionally in social and political crisis elsewhere.
Books by NoViolet Bulawayo