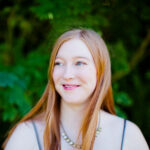 Olivia Waite
Olivia Waite writes queer historical romance, fantasy, science fiction, and essays. She is the romance fiction columnist for the New York Times Book Review.
Interviews with Olivia Waite
Britain's Regency period has always been a popular setting for historical romances—and particularly so in the wake of the hit television adaptation of Julia Quinn's Bridgerton series. We asked the author and columnist Olivia Waite to recommend five of the best Regency romance novels for those who prefer their love stories trimmed with lace.