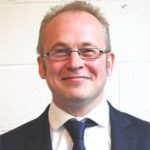 Patrick Porter
Patrick Porter is Professor of International Security and Strategy at the University of Birmingham. He is also a Senior Associate Fellow at the Royal United Services Institute (RUSI), the world's oldest independent think tank on international defence and security. His research interests include the interaction of power and ideas in the making of foreign and defence policy in the U.S. and U.K, and in shaping their conflicts.
Books by Patrick Porter
Patrick Porter has written this very interesting book in which he has tried to look at the role of culture in military history, and in particular the argument that there are fixed national cultures and that this can or can't lead to particular outcomes. And what he is actually saying is that we mustn't push the cultural interpretation too far.
Interviews with Patrick Porter
From the Cold War to the post-9/11 world, Professor Patrick Porter looks at America's destiny and international function. Grappling with geopolitical questions, he looks at whether America's flirtations with empire can be reconciled with republican ideals.
Interviews where books by Patrick Porter were recommended
In military terms, the traditional view is that the rest of the world is struggling to catch up with the West, says Professor Jeremy Black. But, as some of his book choices reveal, this is historically inaccurate