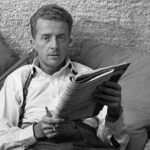 Paul Bowles
Paul Frederic Bowles (December 1910 – November  1999) was an American expatriate author, composer and translator. Bowles lived in Morocco for over 50 years.
"He is a gloriously spare, sharp, sardonic writer with a very specific view of Morocco. He's very good, though. He knows his Morocco." Jane Johnson in historical fiction set around the world.
Books by Paul Bowles
"It centres on an American couple travelling to Morocco and opens with the crazy markets and tearooms, the hubble-bubble smoking in the towns, which are a vivid, almost frightening glimpse of another world. The travellers are enthusiastic but their ignorance makes them vulnerable; they have no way of being usefully watchful in this alien terrain. As they journey south the heat and disorientation intensifies and the towns grow further and further apart, with wilderness sucking them into a chain of events they cannot control. As everything disintegrates around them we see the truth behind the veneer of civility. In the emptiness they are faced with themselves and, as the marriage dissolves, the danger of travel becomes a nightmare – beyond the harsh terrain, disease and physical toll of desert travel, tragedy and madness wait. In a way, all desert books are about travelling within yourself, and not being entirely in control. That surrender to the kindness of strangers is common to everything I've ever read about the desert, too. You surrender everything because the desert will take it from you anyway. And you have to learn a new kind of watchfulness." Read more...
The best books on Desert Nations
Jo Tatchell, Journalist
Interviews where books by Paul Bowles were recommended
The author explains the allure of desert nations, through a discussion of books including Arabian Sands by Wilfred Thesiger and Sultan In Oman by Jan Morris