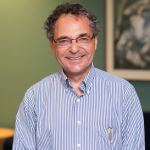 Paul Falkowski
Paul G. Falkowski holds the Bennett L. Smith Chair in Business and Natural Resources at Rutgers University. He is a member of the National Academy of Sciences, the American Academy of Arts and Sciences and a fellow of both the American Geophysical Union and the American Academy of Microbiology. His latest book is Life's Engines: How Microbes Made Earth Habitable.
Interviews with Paul Falkowski
Without them, plants and animals wouldn't exist and even the Earth's geology would be different. Paul Falkowski recommends the best books on microbes.