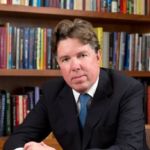 Books by Paul Tucker
In his first book, Unelected Power: The Quest for Legitimacy in Central Banking and the Regulatory State, Paul Tucker looked at the political legitimacy of non-elected bodies in democratic states, with a primary focus on central banks. This latest book looks at comparable problems in the international sphere. Can democratic countries interact and cooperate with non-democratic countries in developing and managing international institutions, particularly international financial institutions? Tucker explores the historical and philosophical background to current problems and confusions in this area and sets out principles that can underpin democratic support for international political and financial architecture.
Paul Tucker, former deputy governor of the Bank of England, looks at how unelected bodies can and should be made accountable in a modern democratic society.
Interviews with Paul Tucker
For centuries humanity has struggled with how to build an international order based on law and agreed principles, rather than force and the threat of war. In today's multi-polar world understanding how such an order might and could be shaped has taken on a renewed urgency. Here, Paul Tucker, a fellow at Harvard's John F. Kennedy School of Government, chooses five books on geopolitics and global commerce.
Experts versus populists, bureaucracy versus democracy: Paul Tucker, former deputy governor of the Bank of England and a fellow at Harvard's John F Kennedy School of Government, chooses books that wrestle with central dilemmas of today's liberal political order