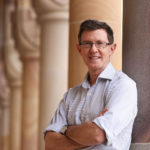 Peter Harrison
Peter Harrison is Director of the Institute for Advanced Studies in the Humanities at the University of Queensland. Before coming to UQ he was the Idreos Professor of Science and Religion and Director of the Ian Ramsey Centre at the University of Oxford. He has published extensively in the area of intellectual history with a focus on the philosophical, scientific and religious thought of the early modern period. He has been a Visiting Fellow at Yale and Princeton, is a founding member of the International Society for Science and Religion, and a Fellow of the Australian Academy of the Humanities.
Interviews with Peter Harrison
Have science and religion been fundamentally at war throughout history? Are they incompatible? Has religion always held back scientific progress? These views may seem intuitive but few historians would defend them. Professor Peter Harrison looks at the complexity of science-religion interactions, including the cases of Galileo and Darwin, and considers how we frame the debate.
Interviews where books by Peter Harrison were recommended
When addressing the really fundamental questions in science, researchers must assume that there is an objective reality to describe. But the nature of that reality may be more subtle, allowing space for the existence of God, says Andrew Briggs, professor of nanomaterials at Oxford University.