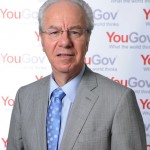 Peter Kellner
Peter Kellner has been a political analyst, commentator and columnist for the past 30 years, and is now president of the internet panel polling company YouGov, which floated for £18 million in 2005 and has profit margins far higher than most of the market research industry. He is a long-term member of the Labour Party, but YouGov polls, which electronically survey invited participants, have been criticised by Labour politicians – possibly because the findings are thought to have broken a pattern in which traditional polls in the UK tend to overstate Labour support.
Books by Peter Kellner
This book was published in 1976, just as British Labour Party leader James Callaghan became prime minister, so does not offer any assessment of his time in office. Callaghan would end up being prime minister from 1976 to 1979, when he lost to Margaret Thatcher in the general election. Co-written with UK polling expert Peter Kellner, Callaghan: The Road to Number Ten appears to have been Christopher Hitchens's first book.
Interviews with Peter Kellner
Political commentator and President of YouGov.com chooses older books from both sides of the Atlantic to show what really matters in politics.