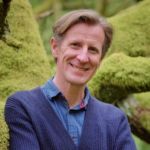 Philip Reeve
Philip Reeve trained as an illustrator. His first novel, the epic Mortal Engines, was published in 2001. It went on to win the Smarties and Blue Peter prizes, and the movie is currently in production. It was followed by three sequels and three prequels. Here Lies Arthur, his take on the Arthurian legends, won the Carnegie Medal.
RAILHEAD is a critically acclaimed adventure set in a future populated by thieves and androids, insects and intelligent trains. The sequel, Black Light Express, was published in 2016.
Interviews with Philip Reeve
Award-winning author Philip Reeve talks us through the science fiction and fantasy books that shaped him and his work in profound ways; among indubitable classics are vibrant lesser-known works awaiting our discovery.
Interviews where books by Philip Reeve were recommended
Historical novelist K J Whittaker takes us on a time-travelling adventure as she selects five brilliant historical novels for teens.