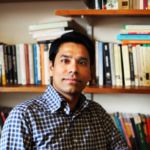 Prashant Kidambi
Prashant Kidambi is Associate Professor in Colonial Urban History at the University of Leicester. After completing postgraduate degrees in history at the Jawaharlal Nehru University in New Delhi, he was awarded a Rhodes Scholarship to study at the University of Oxford. Kidambi's research explores the interface between British imperialism and the history of modern South Asia.
Books by Prashant Kidambi
"Cricket Country is really a story of the beginnings of the Indian game. It's focused on the first all Indian cricket tour of Britain in 1911, but it's not a sports history. It's really a social history. He uses a lot of archival material, a lot of research, but presents it in a very engaging way. There are quite lot of surprises." Read more...
The Best History Books: the 2020 Wolfson Prize shortlist
Richard Evans, Historian