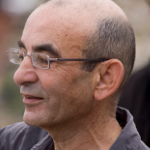 Raja Shehadeh
Raja Shehadeh is Palestine's leading writer. He is also a lawyer and the founder of the pioneering Palestinian human rights organisation Al-Haq. Shehadeh is the author of several acclaimed books including Strangers in the House and Occupation Diaries and winner of the 2008 Orwell Prize for Palestinian Walks. He lives in Ramallah in Palestine.
Interviews with Raja Shehadeh
Raja Shehadeh's choices highlight the suffering endured by the Palestinian people over the last 100 years. But they also celebrate the country's natural beauty, vibrant culture and multi-textured humanity.
Interviews where books by Raja Shehadeh were recommended
Acclaimed novelist and author of Mornings in Jenin chooses five books about Palestine by Palestinian writers. She says what she sees among the young people in Palestine is humbling, 'they have such remarkable spirit'