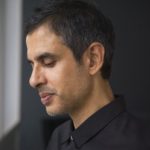 Rana Dasgupta
Rana Dasgupta is an award-winning novelist and essayist, and the literary director of the JCB Prize for Literature. He is the author of Solo, which won the Commonwealth Writers' Prize, and Tokyo Cancelled, which was shortlisted for the John Llewellyn Rhys Prize. His latest book, Capital: The Eruption of Delhi, won the 2017 Ryszard Kapuściński Award for Literary Reportage. He lives in Delhi, India.
Interviews with Rana Dasgupta
India has a thriving literary community working in 22 official languages plus English, says Rana Dasgupta, the literary director of the JCB Prize: a major award for the best new novel by an Indian author. Here, he talks us through their 2019 shortlist.