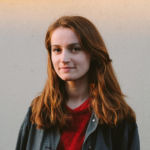 Rebecca Watson
Rebecca Watson is the author of little scratch, which is published by Faber in the UK and Doubleday in the US. She was picked as one of The Observer's ten best debut novelists of 2021. Her work has been published in The TLS, The Guardian, Granta and elsewhere. In 2018, she was shortlisted for the White Review Short Story Prize. She works part-time as assistant arts editor at the Financial Times and lives in London.
Books by Rebecca Watson
"This dazzling work of experimental fiction explodes the literary conventions in its recreation of its protagonist's anxious, polyphonic stream of consciousness over the course of a single day, in the wake of a sexual assault. That might sound like hard work, but it's an absorbing and often playful book, which made a deep impression on me." Read more...
Cal Flyn, Journalist
Interviews with Rebecca Watson
Experimental fiction often uses unusual forms of syntax, style, or form—perhaps taking the form of fragments, footnotes or parallel narratives. Here Rebecca Watson, author of the critically acclaimed experimental novel little scratch, recommends five of the best experimental novels and explains why a writer might choose to bend the rules—and to what effect.
Interviews where books by Rebecca Watson were recommended
It's been another vintage year for fiction. As book sales continue to soar, Five Books deputy editor Cal Flyn talks us through her personal highlights: the best new novels to be released in 2021. Her recommendations include a workplace comedy that unfolds through the medium of Slack, a "darkly sardonic" story of a 17th-century witch trial, and a witty novel-of-ideas examining trans parenthood.