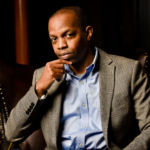 Robert Jones Jr.
Robert Jones, Jr is a writer from Brooklyn, NY. He received his BFA, magna cum laude, in creative writing, and MFA in fiction from Brooklyn College. His work has been featured in The New York Times, Essence, Gawker, and The Grio. He is the creator of the social justice social media community, Son of Baldwin, which has over 250,000 followers across platforms. Here is a clip of him paying tribute to librarians, and in particular the library in Brooklyn that was so important to him growing up (his cat, Baldwin, can be seen moving around in the background).
Books by Robert Jones Jr.
In The Prophets Robert Jones Jr. recreates life on a plantation in the American South, before the Civil War. It's a beautifully told love story, of love between two men, both enslaved and how others on the plantation, including fellow slaves who have found Christianity, respond.
Interviews with Robert Jones Jr.
The novels of James Baldwin, Alice Walker, Wallace Thurman and James Early Hardy bring the America of the last two centuries vividly to life. Marlon James brings us a fantasy trilogy set in ancient Africa. Robert Jones Jr., author of The Prophets—a love story set on a plantation in the American South—talks us through his choices of the best books by Black queer writers.
Books by Robert Jones Jr.