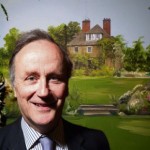 Robin Lane Fox
Robin Lane Fox has been Fellow and Tutor in Ancient History at New College, Oxford since 1977, and University Reader in Ancient History since 1990. His books and articles include major works on Alexander the Great and the relation between the pagan and early Christian religions of the Roman Empire. He has taught Greek and Latin literature, Greek and Roman history, and early Islamic history, in which he held an Oxford Research Fellowship. He was historical advisor to the film director Oliver Stone for the epic Alexander, where he also appeared as an extra in Alexander's cavalry.
Interviews with Robin Lane Fox
Cultural and philosophical changes that occurred in late antiquity are essential to our understanding of the world today, but few us know much about that period. Historian Robin Lane Fox recommends the best books to read to get a good sense of late antiquity.
Interviews where books by Robin Lane Fox were recommended
Gardening expert Helen Dillon recommends five books that have influenced her, from 300-year old gardening tips to the difficulty of describing flowers
The President Emeritus of The New York Botanical Garden in the Bronx, New York tells us about the books that all aspiring gardeners should have on their bookshelves, from reference works to the most fun guide to making the best of your garden
How accurate is what we think we know about the Romans? Tom Holland, the author of Rubicon, tells us about the exercise of power, the staging of ceremony and the influence of religion in ancient Rome.