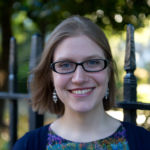 Robin Stevens
Robin Stevens was born in California and grew up in an Oxford college, across the road from the house where Alice in Wonderland lived. She has been making up stories all her life.
When she was twelve, her father handed her a copy of The Murder of Roger Ackroyd and she realised that she wanted to be either Hercule Poirot or Agatha Christie when she grew up. When it occurred to her that she was never going to be able to grow her own spectacular walrus moustache, she decided that Agatha Christie was the more achievable option.
Interviews with Robin Stevens
Do you love to solve a mystery? Do the twists and turns in the plot of a classic whodunit thrill you? Award-winning author Robin Stevens talks us through her favourite kid detectives and the murderously good books from which they come to life.