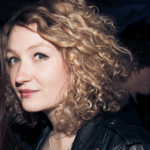 Rosa Rankin-Gee
Rosa Rankin-Gee is the author of two novels, The Last Kings of Sark, which won Shakespeare and Company's Paris Literary Prize, and Dreamland, set in a near-future Margate, described as "liquid grace and glinting sparkle" (The Observer),  "enthralling… blazing bright" (The Guardian), "superb" (The New European) and "a triumph" (GQ). Her work has appeared in Esquire, The Paris Review Daily, The New Yorker, Vogue & Harper's Bazaar. She once tried to stop Brexit with 600 croissants.
Interviews with Rosa Rankin-Gee
Books featuring dystopian or post-apocalyptic themes offer us an opportunity to study human nature outside of the normal structure of society, says Rosa Rankin-Gee, author of the acclaimed novel Dreamland. Here, she recommends five other books featuring a near-future dystopia, all of which explore a societal or cultural unraveling through beautiful prose.