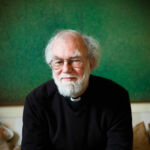 Rowan Williams
Rowan Williams is the former Archbishop of Canterbury and was the Master of Magdalene College, Cambridge, a position from which he retired in 2020. He was also Lady Margaret Professor at Oxford. He has written dozens of books including On Augustine, The Way of St Benedict, Holy Living, The Edge of Words, and Justice and Love and Teresa of Avila.
Books by Rowan Williams
This is a collection of his essays from the 1980s and 90s on a range of subjects… he is acutely aware of all modern dilemmas
Interviews with Rowan Williams
St Teresa of Avila was one of the towering figures of the Counter-Reformation, both as a theologian and as a reformer of the religious life. Here, the former Archbishop of Canterbury, Rowan Williams, discusses her insights into spiritual growth and prayer, the impact her Jewish roots had on her life and career, and why Bernini's statue of her in ecstasy is unhelpful.
Interviews where books by Rowan Williams were recommended
The former bishop of Oxford tells us about books that explore what it means to be a Christian – from St Augustine and medieval mysticism to grappling with Dostoyevsky and more modern dilemmas. He picks the best books on Christianity.