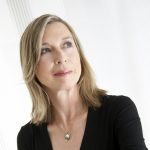 Salley Vickers
Psychotherapist turned bestselling author Sally Vickers's books include The Cleaner of Chartres (2012), Dancing Backwards (2009), Where Three Roads Meet (2007) and Miss Garnett's Angel (2000). Cousins, Vickers's tenth novel, was published by Viking in November 2016.
Interviews with Salley Vickers
The stories we tell ourselves affect our decision-making in profound ways, says psychotherapist turned bestselling author Salley Vickers. Here, she recommends five novels that delve into the psychology of the self—and of society.