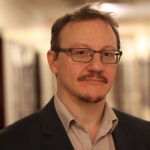 Simon Yarrow
Simon Yarrow is senior lecturer in medieval history at the University of Birmingham and director of the Birmingham Research Institute for History and Cultures.
Interviews with Simon Yarrow
Heroes are universal to human culture and, in Christian culture, they manifested themselves as saints. Historian Simon Yarrow recommends the best books to understand the saints, from their widespread appearance in late antiquity to their continuing influence in modern America.