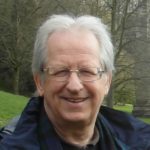 Stephen Houlgate
Stephen Houlgate is Professor of Philosophy at the University of Warwick. He is the author of An Introduction to Hegel's Philosophy: Freedom, Truth and History, 2nd Ed (Blackwell, 2005) and The Opening of Hegel's Logic (Purdue UP, 2006). He is the editor of The Hegel Reader (Blackwell, 1998) and Hegel and the Arts (Northwestern UP, 2007), as well as co-editor (with Michael Baur) of A Companion to Hegel (Wiley-Blackwell, 2011).
Books by Stephen Houlgate
Interviews with Stephen Houlgate
G W F Hegel is one of the most divisive figures in western philosophy. He influenced Marx, Kierkegaard, Nietzsche, Sartre, Adorno and countless others. And yet, he is seen as perhaps the most obscure and inaccessible philosopher to read. Is he worth engaging with? How should we read him? Stephen Houlgate, a philosopher at Warwick University, gives us an in-depth look at Hegel.
Books by Stephen Houlgate