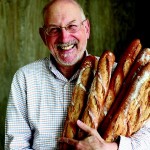 Steven Kaplan
Steven Kaplan is the Goldwin Smith Professor of European History at Cornell University. He writes on French history and the history of food, with a particular focus on bread.
Interviews with Steven Kaplan
From body and blood of Christ or an act of seduction to a means of social control and even a weapon of war – Professor Steven Kaplan picks the best books on the history and power of food.
Interviews where books by Steven Kaplan were recommended
The architect, writer, lecturer, and director of Kilburn Nightingale Architects says architecture should not be just about buildings, but about everything else in our environment
History too often glosses over basic questions of subsistence and food availability, argues Oxford academic Diane Purkiss—whose new book English Food is a social history told through the food on people's tables. Here, she recommends five books about the history of food that focus on the diet of the common person as opposed to the royal banquet table.