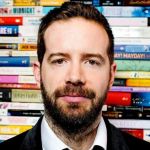 Stig Abell
Stig Abell is the editor and publisher of the Times Literary Supplement, and was chair of the judges for the 2019 Baillie Gifford Prize. He presents Front Row, an arts magazine show on Radio 4, and his book How Britain Really Works was published in May 2018.
Interviews with Stig Abell
Every year, the Baillie Gifford Prize judges seek to identify the very best nonfiction books published in the last year. Here, the chair of this year's judging panel Stig Abell talks us through the 2019 shortlist: a thrilling line-up of books that are as notable for their literary prowess as for their weight and significance.