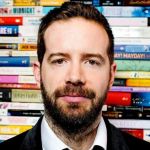 Stig Abell
Stig Abell presents the breakfast show on Times Radio, a station he helped to launch in 2020. Before that, he was a regular presenter on Radio 4's Front Row and was the editor and publisher of the Times Literary Supplement. He was chair of the judges for the 2019 Baillie Gifford Prize. His books include How Britain Really Works and Death Under a Little Sky, his first crime novel.
Books by Stig Abell
Death Under a Little Sky is a debut crime novel (the first in a series) by British journalist Stig Abell and will appeal to anyone who loves the comfort of reading traditional mysteries. Set in the depths of the English countryside, it's about a detective whose marriage has failed and who leaves the city to get back to nature and solitude. Naturally, things don't quite work out that way. Though Covid isn't mentioned, the book captures really nicely the atmosphere of those first months of the pandemic, when self-sufficiency was back in fashion, people stayed home and learned to do basic things, and let their hair grow long.
Interviews with Stig Abell
The crime book genre is massive and caters to all sorts of tastes, but once you find a detective or main character you love, there are few pleasures greater than reading the entire series. British journalist Stig Abell, author of Death Under a Little Sky, picks some of the best classic crime, books he's read over and over again.
Every year, the Baillie Gifford Prize judges seek to identify the very best nonfiction books published in the last year. Here, the chair of this year's judging panel Stig Abell talks us through the 2019 shortlist: a thrilling line-up of books that are as notable for their literary prowess as for their weight and significance.