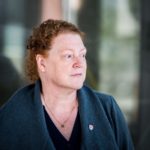 Sue Black
Professor Dame Sue Black is one of the world's leading anatomists and forensic anthropologists. Her expertise has been crucial to many high-profile criminals cases, and in 1999 she was the lead anthropologist for the British Forensic Team's work in the war crimes investigations in Kosovo. She was one of the first forensic scientists to travel to Thailand following the Indian Ocean tsunami of 2004 to provide assistance in identifying the dead. In August 2018, she took up the post of Pro-Vice-Chancellor for Engagement at Lancaster University.
Interviews with Sue Black
As one of the most distinguished forensic anthropologists and human anatomists in the world, Professor Dame Sue Black has spent her working life in close proximity to death. Here she discusses the history of corpses supplied to anatomy houses, the misleading nature of shows like CSI, and how she intends to keep on teaching after her own death: by bequeathing her body.