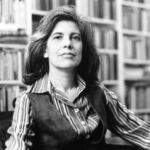 Susan Sontag
Susan Sontag was an influential cultural critic.
"Sontag had such a prescient way of looking at the powers of photography when On Photography came out in 1977. That's now forty years ago!" Lives of Artists by Maria Loh.
Books by Susan Sontag
"Sontag's lesson is that being photographed gives us a sense of both being real and also of existing. The rise of the selfie is eloquent testimony to how people continue to see themselves and how personal histories are now constructed first and foremost through the authority of the image." Read more...
The best books on The Lives of Artists
Maria Loh, Art Historians, Critics & Curator
Interviews where books by Susan Sontag were recommended
We live in an age obsessed with self-image. Technology has made the 'selfie' a ubiquitous form of social currency. Renaissance means may have been very different, but celebrity artists in Medici Florence dealt with many of the issues relating to identity and authorship that we grapple with today. Maria Loh, author of Still Lives: Death, Desire, and the Portrait of the Old Master, talks to Five Books about the curated self.
Popular culture shapes our fantasies, our expectations and our beliefs about what is real, argues Susan Bordo. She picks five books that shed light on popular culture.
Aristotle tells us that all politics starts in the family, and nowhere is that more obvious than in the infamously fraught relationship between mother and daughter. Here, the novelist, playwright and poet Deborah Levy chooses five books – or rather, four books and one film – that explore motherhood.