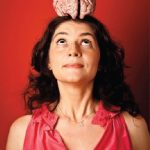 Suzana Herculano-Houzel
Suzana Herculano-Houzel is a Brazilian neuroscientist based at Vanderbilt University. She is the author of six popular books about neuroscience, including The Human Advantage, published in 2016 by MIT Press.
Books by Suzana Herculano-Houzel
"What Herculano-Houzel does in this book is invent a way to actually count the number of brain cells in certain areas. You might think an elephant with a brain three times as big would have three times the number of brain cells. But it turns out, that's not true. She figured out that, basically by turning the brain into soup—so you can't do this on anything that's alive—you can count the number of nuclei. And what she discovered is that, in the cortex, the thinking part of the brain, humans have three times as many neurons, as many brain cells, as elephants do, which is remarkable." Read more...
Steven Austad, Biologist
Interviews with Suzana Herculano-Houzel
The human brain contains 86 billion neurons and burns a quarter of our energy intake. But it is by no means extraordinary, says Suzana Herculano-Houzel. Here, the Brazilian neuroscientist chooses five of the best books for understanding the complexities and connectivity of our most enigmatic organ.
Interviews where books by Suzana Herculano-Houzel were recommended
The promises of potions or techniques to achieve longevity have been with us since time immemorial, the outlandishness of some claims matched only by our willingness to believe them. And, yet, today's scientific research does give some clues on how to live longer and healthier lives. Biologist Steven Austad, Distinguished Professor and Endowed Chair in Healthy Aging Research at the University of Alabama, recommends a range of books that give insight into longevity.
Books by Suzana Herculano-Houzel