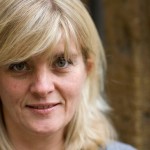 Vanora Bennett
Vanora Bennett covered the first post-Soviet Chechen war for Reuters and the Los Angeles Times. She received a US Press Club Foreign Reporting Award and an Orwell Prize for Journalism. She is also a best-selling historical novelist.
Interviews with Vanora Bennett
Which are the best historical novels? Bestselling author Vanora Bennett recommends.
Award winning reporter and novelist says there are no superlatives too superlative for Anna Politkovskaya, who, after three books and innumerable investigative reporting trips to Chechnya, was murdered in Moscow