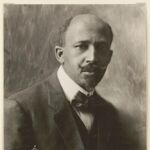 W E B Du Bois
W.E.B. Du Bois is called "the father of American sociology", he was also an important civil right activist and one of the most influential intellectuals of the twentieth century.  W.E.B. Du Bois' classic book, The Souls of Black Folk, was published in 1903. Black Reconstruction in America came thirty years later.
Books by W E B Du Bois
"W.E.B. Du Bois, born in Massachusetts, educated at Harvard and in Germany, cast his lot with Black Southerners by moving to Atlanta and relays what he saw here. It's a series of vignettes. The writing is so powerful. It is Southern history, but it's also a reflection on the history that shaped what followed its publication in 1903. It is important for its testimony but also for the work on Reconstruction that Du Bois began with this book." Read more...
Best Books on the History of the American South
Edward Ayers, Historian
"It's a dense book, but it's filled with compelling narratives and analyses of the motivations, frustrations and aspirations of participants in the process of Reconstruction. He explores why disaffection exists between poor and working-class white Americans, how race is deployed to destroy the potential for class solidarity and the stark reality of antebellum black life in the South. It was a groundbreaking text, which remains widely influential to this day." Read more...
African American History Books
Imani Perry, Historian
"It's a landmark book in the history of social science and the history of cities. It's a look at the African-American community in Philadelphia 110 years ago. DuBois spent 15 months personally canvassing Philadelphia and analysing census data. It's an amazingly good piece of quantitative social science research. It set an example that was much followed by people doing research on cities. That's one reason to admire it: its place in intellectual history. Because DuBois's later work The Souls of Black Folks is such a transformative and transcendent piece of literature, that is seen as being his legacy. But for those of us who crunch numbers on a daily basis, as social scientists, The Philadelphia Negro is as great a legacy." Read more...
The best books on Urban Economics
Edward Glaeser, Economist
Interviews where books by W E B Du Bois were recommended
Harvard economist Edward Glaeser chooses the best books on the economics of cities, from Chicago's life story to how urban transport shaped New York.
Princeton Professor Imani Perry—a prolific scholar of African American Studies whose biography of Lorraine Hansberry, Looking For Lorraine,  won the 2019 PEN Biography Prize—recommends five books she considers essential to an understanding of the history of black life in America.
To understand the America of today, you must understand the American South of the past, says historian Edward Ayers, Tucker-Boatwright Professor of the Humanities and President Emeritus at the University of Richmond. Here, he recommends five books to get started with, and also explains what his own books were aiming to contribute to the field of Southern history.