"Hatred is increased by reciprocal hatred, but can be destroyed by love"—Baruch Spinoza.
Rather excitingly, Princeton University Press has published George Eliot's translation of Baruch Spinoza's Ethics, which previously was quite hard to buy. The book is edited by Clare Carlisle, a philosopher at King's College London, whose introduction details the influence of Spinoza on George Eliot's later literary work.
The influence of Spinoza on George Eliot is discussed in this interview on the Best Philosophical Novels, with philosopher and novelist Rebecca Goldstein.
"Relatively few people realise the extent to which the author of Middlemarch was immersed in philosophy, though they recognise that she was acutely aware of moral issues. Here at last is a good edition of her translation from the Latin of Baruch Spinoza's Ethics, introduced by Clare Carlisle."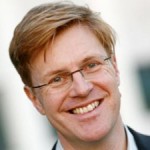 Nigel Warburton