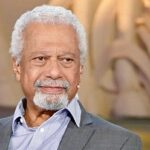 Abdulrazak Gurnah
Abdulrazak Gurnah  is a Tanzanian-born British novelist and is the 2021 winner of the Nobel Prize in Literature.
Books by Abdulrazak Gurnah
"Abdulrazak Gurnah—who won the 2021 Nobel Prize for his 'uncompromising and compassionate penetration of the effects of colonialism.' His latest novel, Afterlives, is set in what is now Tanzania (then Tanganyika) during the period of German rule around the turn of the 20th century, following a large cast of characters facing oppression of various kinds during the run-up to the First World War." Read more...
The Notable Novels of Summer 2022
Cal Flyn, Journalist
as told to Ali Smith, Patience Agbabi, Abdulrazak Gurnah and many others
"Refugee Tales is particularly interesting because it combines literature and activism. It shows a really idiosyncratic take on the Canterbury Tales. This group of people have recreated the Canterbury pilgrimage, and walked through the land as a group of refugees and writers. Recent refugees told their stories, and for each refugee, a writer then wrote up a version of that story." Read more...
The Canterbury Tales: A Reading List
Marion Turner, Biographer
Interviews where books by Abdulrazak Gurnah were recommended
Geoffrey Chaucer's Canterbury Tales not only revolutionized English poetry—they're also extremely funny and moving. Oxford Professor Marion Turner, who has written the first full-length biography of Chaucer in a generation, tells us about the extraordinary man who wrote them and why we should all read the Canterbury Tales. 
If you're looking for a new book to keep you entertained or intellectually excited over the summer break, we've got you covered. Five Books' deputy editor Cal Flyn offers a round-up of the notable new novels of summer 2022, from snappy debuts and fantasy epics to the latest book from the most recent recipient of the Nobel Prize for Literature.