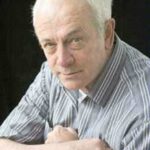 Alan Garner
Alan Garner is a British novelist who has been recommended many times on Five Books; he is arguably best known for his fantasy works aimed at children and young adults—including the Carnegie Medal-winning The Owl Service, a YA novel based on the Welsh myth of Blodeuwedd, and Red Shift, a 1973 fantasy that moves from Roman Britain, to the time of the English Civil War, into (what was then) the present day.
Treacle Walker, an unsettling, fable-like coming of age story, was shortlisted for the 2022 Booker Prize. Garner told The Guardian that the book was loosely based on tales of a historical figure, a tramp called Walter Helliwell (better known locally as 'Treacle Walker') "who claimed he could cure all things but jealousy."
Interviews where books by Alan Garner were recommended
Alan Lee, illustrator of such classics as The Lord of the Rings and The Hobbit, talks to Five Books about his favourite stories drawn from myth and fairy tale, what they mean to him, and how important it is for young readers today to experience these ancient stories.
For centuries, the witch has been an index not only of what we fear most in others, but also what we cannot cope with—the powerfully abnormal, strange and often irrational elements—in ourselves. And the best way to understand the history of witches and witchcraft is to first understand the supernatural, according to Diane Purkiss, Professor at Keble College, Oxford and author of the lauded book The Witch in History.
The Booker Prize is awarded each year to the best original novel written in the English language. We asked the art historian Neil MacGregor, chair of this year's judging panel, to talk us through the six novels that made the 2022 shortlist—and why fiction can be a most effective means of engaging us emotionally in social and political crisis elsewhere.