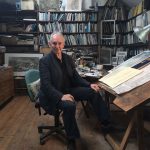 Alan Lee
Alan Lee has been illustrating the works of JRR Tolkien since 1992, starting with The Lord of the Rings centenary edition. It was this artwork that prompted director Peter Jackson to invite Lee to work on the films, for which he later won an Oscar. Lee won the CILIP Kate Greenaway Medal in 1993 for his haunting illustrations in Black Ships Before Troy, the story of The Iliad told by Rosemary Sutcliff.
Books by Alan Lee
The Fall of Númenor is a collection of Tolkien's writings on the Second Age of Middle-earth, put together by British writer and Tolkien expert Brian Sibley and illustrated by Alan Lee. This is the period before the adventures of The Hobbit and The Lord of the Rings (which take place in the Third Age of Middle-earth). Númenor is the island where the Dúnedain live and from whom Aragorn—the king in The Return of the King—is descended.
The book may be distantly connected to the Amazon Prime series The Rings of Power, also set in the Second Age of Middle-earth.
Q: Before we get lost in the mists of myth and fairy tale, tell us about Beren and Lúthien, a book distilled by Christopher Tolkien from his father's manuscripts and published in June this year, with illustrations by you. It is set 6,500 years before The Lord of the Rings and the love story is mentioned in The Lord of the Rings.


A: Yes, and the love story of Aragorn and Arwen is an extension of it. Beren and Lúthien is based on Tolkien's own experience. It was inspired by seeing his own wife, Edith, dancing in a wood, under the moonlight, amongst hemlock flowers. And this created an image in his mind that he kept on reworking throughout his life. But that it the central image. When she died he had the name Lúthien inscribed on her gravestone. When Tolkien died, his children inscribed the name Beren on his.
Interviews with Alan Lee
Alan Lee, illustrator of such classics as The Lord of the Rings and The Hobbit, talks to Five Books about his favourite stories drawn from myth and fairy tale, what they mean to him, and how important it is for young readers today to experience these ancient stories.