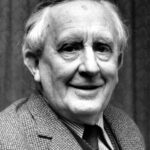 J R R Tolkien
J R R Tolkien is most famous for writing The Lord of the Rings. "This trilogy is the gold standard in terms of fantasy writing" Philip Reeve.
John Ronald Reuel Tolkien was also a University of Oxford English Professor and Professor of Anglo-Saxon.
'Tolkien's extraordinary achievement was to recover the epic landscapes of Anglo-Saxon myth, bring them back to life, and then to take us through them on foot, so we could see the details up close, at human scale." Lev Grossman on The Hobbit.
Interviews where books by J R R Tolkien were recommended