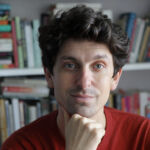 Books by Andy West
This is a very personal memoir by Andy West, about growing up with a father who spent time in prison and his experiences teaching philosophy in prisons as an adult. The accounts of his lessons–one of the first is on 'freedom'—and how the men he is teaching respond to them are really thought-provoking.
Interviews with Andy West
By teaching philosophy in prisons, British philosopher Andy West was not only able to engage with core issues of the human condition, but also to come to terms with members of his own family's experience of being in prison. Here, he talks us through some books that deal with being locked up, from Auschwitz to Vancouver Island, as well as one by a victim of violent crime.