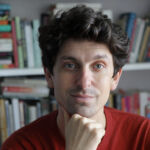 Books by Andy West
***🏆  A Five Books Book of the Year ***
"Andy is a teacher of philosophy in prisons but he's also somebody who's had a lot of family experience in prisons from the inside, because his father, his uncle, and his brother, have all spent time in jail. So he's got an ambivalent attitude to prisons and I think his family said, 'What on earth are you going teaching in prisons for? That's another one that ended up inside!' He has a particularly interesting take on all this. It's partly constructed memoir: he discusses the sessions where he teaches philosophy to prisoners, but for reasons of privacy, he hasn't revealed too much about the identities of particular prisoners." Read more...
The Best Philosophy Books of 2022
Nigel Warburton, Philosopher
Interviews with Andy West
By teaching philosophy in prisons, British philosopher Andy West was not only able to engage with core issues of the human condition, but also to come to terms with members of his own family's experience of being in prison. Here, he talks us through some books that deal with being locked up, from Auschwitz to Vancouver Island, as well as one by a victim of violent crime.
Interviews where books by Andy West were recommended
Every year we ask our philosophy editor Nigel Warburton to recommend the best new books in the field. In 2022, his philosophy book recommendations include David Chalmers' latest examination of consciousness, a memoir of teaching philosophy in prison, and a biography of the ancient provocateur and original cynic Diogenes.