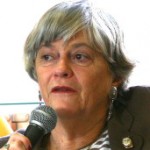 Ann Widdecombe
An MP from 1987-2010, Ann Widdecombe was Minister for Prisons under John Major from 1995 to 1997. Following the Conservative defeat, she served as Shadow Health Secretary and Shadow Home Secretary under William Hague. In 2001 she retired from frontbench politics in order to express herself more freely on issues that mattered to her. Her first novel, The Clematis Tree, published in April 2000, became a bestseller.
Interviews with Ann Widdecombe
Politician and novelist Ann Widdecombe recommends her favourite childhood books.