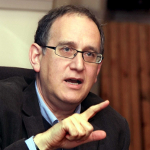 Anthony Julius
Anthony Robert Julius is a British solicitor advocate and literary scholar, known among other things for his actions on behalf of Diana, Princess of Wales and Deborah Lipstadt. He is Deputy Chairman of the London law firm Mishcon de Reya. He holds the Chair in Law and Arts in the Faculty of Law at University College London.
Interviews with Anthony Julius
As both a solicitor advocate and literary scholar, Anthony Julius occupies a privileged place to navigate complex interactions between literature and law. He picks the best books on censorship, including three novels subjected to their own censorship controversies.
Interviews where books by Anthony Julius were recommended
Why has anti-Semitism been such a problem down the ages, and why does it persist today? The emeritus director of the Anti-Defamation League, Abraham Foxman, recommends the best books to better understand anti-Semitism.