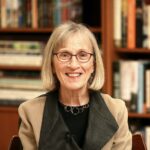 Claudia Goldin
Claudia Goldin is Henry Lee Professor of Economics at Harvard University and one of the leading economists working on the gender pay gap.
Books by Claudia Goldin
In Career and Family: Women's Century-Long Journey to Equity, Claudia Goldin one of the most eminent economists working on this issue, asks why men continue to earn more than women.
Interviews where books by Claudia Goldin were recommended
Despite having slightly higher education levels, women working full-time in the US still only earn 79% of what men do. Stanford economist and author of Sharing the Work, Myra Strober, picks the best books—and one article—that explain the gender wage gap, and, more importantly, show us what we can do about it.
As the Covid pandemic gets another lease of life with the appearance of the omicron variant, those of us spending additional time at home may need a few more books to read. Here, Five Books editor Sophie Roell shares some of her favourite nonfiction books of the year, from history to economics, lessons on how to write like Chekhov to the part each of us can play in reducing political polarization.