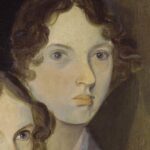 Emily Brontë
Emily Jane Brontë was a British writer whose most famous book, Wuthering Heights, is also one of the most recommended books on Five Books.
"In some ways, Emily Brontë is more of a poet. But she has inspired many subsequent writers of fiction. You couldn't imagine Lawrence without her, for example." Robert McCrum on the best novels in English.
"It's very likely that Emily wrote a second novel after Wuthering Heights. What became of that? The terrifying thing about oppression is it doesn't make people behave like saints. It makes people behave horribly." Professor Diane Purkiss discusses Emily and her sister Charlotte Brontë in the best books on witches and witchcraft. "Charlotte took to rooting around in Emily's writing desk. They all had these writing slopes that they used with, inside them, a kind of compartment. Charlotte was evidently curious about what Emily was doing, so she came across the Gondel poems and Emily was livid. Absolutely livid. She wasn't happy to share them with Charlotte"
Books by Emily Brontë
Emily Brontë (ed. by Derek Roper)
"Emily Brontë's poems, which are mostly written for the paracosm she created of Gondel, contain huge numbers of sorceress-like women. Multiple murderers, adulteresses, faithless queens … The result is these searingly beautiful and musical poems, a lot of which are female voices, speaking confidently. It intersects superbly with her very powerful sense, again of the weather, and of the landscape, and of the history of the landscape, the people who've inhabited that landscape. " Read more...
The best books on Witches and Witchcraft
Diane Purkiss, Historian
The novel Wuthering Heights, by Emily Brontë,  was first published under the pen name Ellis Bell in 1847, just a year before Emily's death in 1848. Below, in our interviews with literary critics and journalists, you'll see why many people still view it as one of the greatest novels ever written in English. Also worth looking at are the contemporary reviews, some of which were found in Emily's desk after her death. These are available on the web (see links below), but are also included in the Norton Critical Edition of Wuthering Heights.
Interviews where books by Emily Brontë were recommended