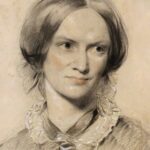 Charlotte Brontë
Charlotte Brontë's books have become much loved classics of English Literature.
"I think Charlotte Brontë's most accomplished book is Villette. It's probably a better book, it's tighter and more sophisticated in some ways. But there's something about Jane Eyre that is just deeply emotionally compelling for me." Lucy Atkins.
Books by Charlotte Brontë
"I don't want to decry Jane Eyre—this isn't an anti-Jane Eyre stance—but I think that it's a fairy story…In Villette, Brontë's become a much more mature writer." Read more...
Salley Vickers, Novelist
Jane Eyre was published in 1847—with the novel's author listed as 'Currer Bell'—and was an immediate commercial success. The main protagonist, Jane, is an orphan who has an extremely tough life before meeting the man of her dreams. Unfortunately, he has dark secrets and the sense of foreboding that pervades the novel makes it also something of a thriller.
Interviews where books by Charlotte Brontë were recommended