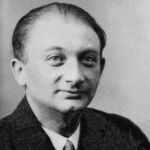 Joseph Roth
Joseph Roth (1894-1939) was an Austro-Hungarian novelist whose books have been recommended many times on Five Books, his Radetzky March in particular hailed as one of the classics of European literature. The first English language biography of Joseph Roth, Endless Flight by Keiron Pim, was published in October 2022 to critical acclaim.
Books by Joseph Roth
"The Spider's Web was Roth's first novel. Far more people know his nostalgic work, The Radetzky March, about the late Habsburg Empire. But I think this earlier novel, which was first serialised in a newspaper at the very beginning of the 1920s, is extremely insightful, even prophetic in a way." Read more...
The best books on The Weimar Republic
Robert Gerwarth, Historian
"It's an extraordinary account of a world collapsing. It conveys the lost world of Mitteleuropa and the collapsing Austro-Hungarian Empire. And he does it brilliantly. The Trotta family are quite mediocre, only relatively interesting minor officials—and in the case of the son, a very minor soldier—that is, intrinsically not particularly exciting characters, who nevertheless convey a very interesting world. It's an extraordinarily powerful book. Roth is a very interesting writer, a brilliant writer, who lived a very tragic life." Read more...
Five of the Best European Classics
David Campbell, Publisher
Interviews where books by Joseph Roth were recommended