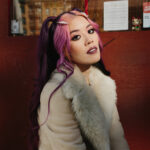 La Carmina
La Carmina is an award-winning alternative culture journalist and TV host. A graduate of Columbia University and Yale Law School, she blogs about Goth travel and fashion and is the author of four books.
Interviews with La Carmina
Over the centuries, horrible crimes have been committed by Christians accusing others of being followers of the Devil. The label of Satanism was one of the worst imaginable in a religious society. However, from the 17th century onwards, some of the greatest writers began to find in Satan, the fallen angel, a sympathetic character whose opposition to the tyranny of heaven was not entirely unreasonable. Today, modern Satanists embrace the label, pursuing a nontheistic religion that celebrates individualism as well as critical thinking, explains blogger and journalist La Carmina, author of The Little Book of Satanism.