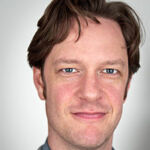 Lane Greene
Lane Greene writes the Johnson language column at the Economist. He speaks nine languages.
Books by Lane Greene
"I love language and languages but have always been quite confused by grammar. Why are some things allowed in English and others not? This book finally helped it all fall into place. You'll also find out lots of interesting facts about words. Did you know that buxom used to mean obedient? Or that it's OK to say 'Can I?' rather than 'May I?'" Read more...
Editors' Picks: Favourite Nonfiction of 2018
Sophie Roell, Journalist
Interviews with Lane Greene
Most grammar books say 'do this, and that's that.' But who says? How do they know? Real rules are grounded in the facts of actual standard usage. Here are five grammar books that show their work, telling you not only what to do but why, and how they know. Accept nothing less.
Does the world look different in other languages? Are there words that cannot be translated? Is it OK to say disinterested when you mean uninterested? Lane Greene, who writes the Economist's "Johnson" column on language, dispels some of the popular but misguided ideas many of us have about language.
Interviews where books by Lane Greene were recommended
Journalist and Five Books editor Sophie Roell looks back on her favourite nonfiction books read this year.