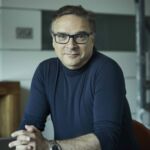 Orlando Figes
Orlando Figes is an award-winning author and historian, who has held teaching posts at Birkbeck College, University of London and Trinity College, University of Cambridge. Figes is the bestselling author of nine books on Russian and European history, including Natasha's Dance and A People's Tragedy, and his books have been translated into over 30 languages. He lives between Italy and the UK.
Books by Orlando Figes
The Story of Russia is a highly readable account of the whole of Russian history, from the early days of the Rus to the current war in Ukraine, in fewer than 300 pages. Historian Orlando Figes, author of our most recommended book on Russian history—A People's Tragedy: The Russian Revolution—shows how that history is essentially a story. This is no different from any other country's national history, constantly changing to reflect current concerns, but it is a story many Westerners are unfamiliar with and crucial to understanding Russia today.
***Winner of the 1997 Wolfson History Prize***
"I think that A People's Tragedy is the most readable and illuminating history of the Russian revolution to be written, using material that only became available to historians following the Soviet Union's collapse. Its scope is immense….Figes is basically a social historian. He's interested in how historical events of the magnitude of the Russian revolution developed out of a number of different social trends. One of the great things about this book is that he combines a number of general theses about the revolution with personal narratives. He chooses five very different characters: Prince Lvov, who was the prime minister in the provisional government that was formed after the February revolution in 1917; General Brusilov, the tsar's most gifted general who later joined the Red Army; Dmitri Oskin, a peasant soldier; the author Maxim Gorky; and Sergei Semenov, a reforming peasant leader. These personal narratives allow him to look at this period from all points of view – the grand political perspective, the grassroots perspective, a literary perspective, a military perspective." Read more...
The best books on The Russian Revolution
Roland Chambers, Biographer
"This is an extensive picture of Russian culture, putting culture in its place as inseparable from society. He shows the Russian mind, the cosmology of belief, daily life on a cultural basis. He's such a graceful writer. He talks about the significance of icons, dance, music, the various brands of Russian Orthodoxy and the way the Russians give meaning to their lives through ceremonies. The Russian landscape is a God-struck landscape. Even the atheists are haunted." Read more...
The best books on Revolutionary Russia
Thomas Keneally, Novelist
Interviews with Orlando Figes
They're among the finest novels ever written, often vast in their scope and ambitious in their subject matter. Some are long, others can be read in an afternoon. They're also one of the best ways of understanding Russian history. Historian Orlando Figes, author of The Story of Russia, recommends his favourite Russian novels, from the 19th century to today.
Interviews where books by Orlando Figes were recommended
Best-selling author Thomas Keneally explains that the Cold War biographies couldn't afford to say that Stalin was attractive, or that Lenin was magnetic, but they were, because otherwise people wouldn't have followed them. He picks some great introductions to Revolutionary Russia.
The Russian revolution was the beginning of the modern age, says award-winning author Roland Chambers. He tells us what Solzhenitsyn imagined Lenin was like, and about the children's author who led a double life as a spy in Bolshevik Russia.
Reading nonfiction books is an excellent way of getting a grip on the realities of the world around us, whether it's how to live, how to run a country, or understanding how the universe works. Five Books editor Sophie Roell looks at some notable new nonfiction books published since June.