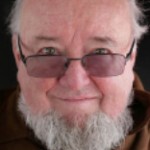 Thomas Keneally
An Australian writer best known for his historical novels, Thomas Keneally portrays characters who are gripped by their historical and personal past, and decent individuals often at odds with systems of authority. At age 17, Keneally entered a Roman Catholic seminary, but he left before ordination. His best-known work, Schindler's Ark, adapted into the film Schindler's List, tells the true story of Oskar Schindler, a German industrialist who saved more than 1,300 Jews from the Nazis. It won the Booker Prize in 1982.
Books by Thomas Keneally
As you will have heard with my choices it is very hard to separate the literature from the sense of the place. And that is just as true for the past as for its contemporary energy. You get this weird thing in Australia. It's a highly urban place and yet the imagination of the writers so often goes to remote places and remote times. The landscape is so vast and unwritten that it is appealing to writers and I think that is something distinctive to Australia. And the way people deal with that, through irony, through humour, through exaggeration, which all of these books I have mentioned have in different ways.
The Best Australian Novels recommended by Nicholas Jose
***Winner of the 1982 Booker Prize***
This was the Booker Prize-winning novel, based on the true story of Oskar Schindler, that was turned into the movie Schindler's List. A member of the Nazi party at the beginning of World War II and no saint, Schindler would end up saving more than 1,000 Jews from death, employing them in his factory and doing whatever it took to protect them.
Interviews with Thomas Keneally
Best-selling author Thomas Keneally explains that the Cold War biographies couldn't afford to say that Stalin was attractive, or that Lenin was magnetic, but they were, because otherwise people wouldn't have followed them. He picks some great introductions to Revolutionary Russia.